Discover how to throw a Fall Baby Shower with our easy to follow guide.
Having a baby on the way is one of the most exciting times of your life, so why not celebrate with a Baby Shower! Fall is a beautiful time of year and lends itself perfectly to a whole host of Fall Baby Shower themes. Below are our best ideas for how to throw a Fall Baby Shower that's fun and festive.
1. Pick a date for your Fall Baby Shower
When planning a Baby Shower, most Moms-to-be choose a date that's in the third trimester. This means you are well along in the pregnancy but aren't too close to the due date.
Depending on when your baby is due, you can link into different Fall Baby Shower themes. For example, if your timing works that your Fall Baby Shower can be around Thanksgiving, you may want to opt for a Thanksgiving theme. If your Fall Baby Shower is going to be earlier in the season, you might want to go for something lighter, like this pretty theme.
2. Where to host a Fall Baby Shower
Traditionally, Baby Showers are held at the house of the host. In Fall, the weather will be a consideration, so an indoor Baby Shower will be most likely. Having said that, depending on where you live, you could be lucky with a milder climate and still get to party outdoors.
Celebrating in a park local woodland is also a great option if the Shower is in early Fall. Plus you get the natural beauty of the trees for your decor! Just remember to plan a backup location in case of rain.
Another option for a Fall Baby Shower is to celebrate over lunch or afternoon tea at a cafe or restaurant. The benefit of planning a Baby Shower at a restaurant is that the preparation, food, and clean up is all taken care of. This means that all of your guests (and you!) get to enjoy the day and worry about the mess or preparation!
Okay, here's the fun part: picking a Fall Baby Shower theme!
Now, there are a whole host of gorgeous Baby Shower themes for Fall. So many that we have written a whole article on them! You can read it here.
Our favorite Fall Baby Shower themes are:
Enchanted Woodland
Little Fox
Barnyard
Pink Little Pumpkin
Blue Little Pumpkin
But really, the possibilities are endless!
4. Fall Baby Shower Decorations
Of course, decorating your Fall Baby Shower is one of the most fun parts! And there are so many sweet and easy ways to decorate so here are a few of our favorites.
Get a personalized Little Pumpkin centerpiece on Etsy from $22.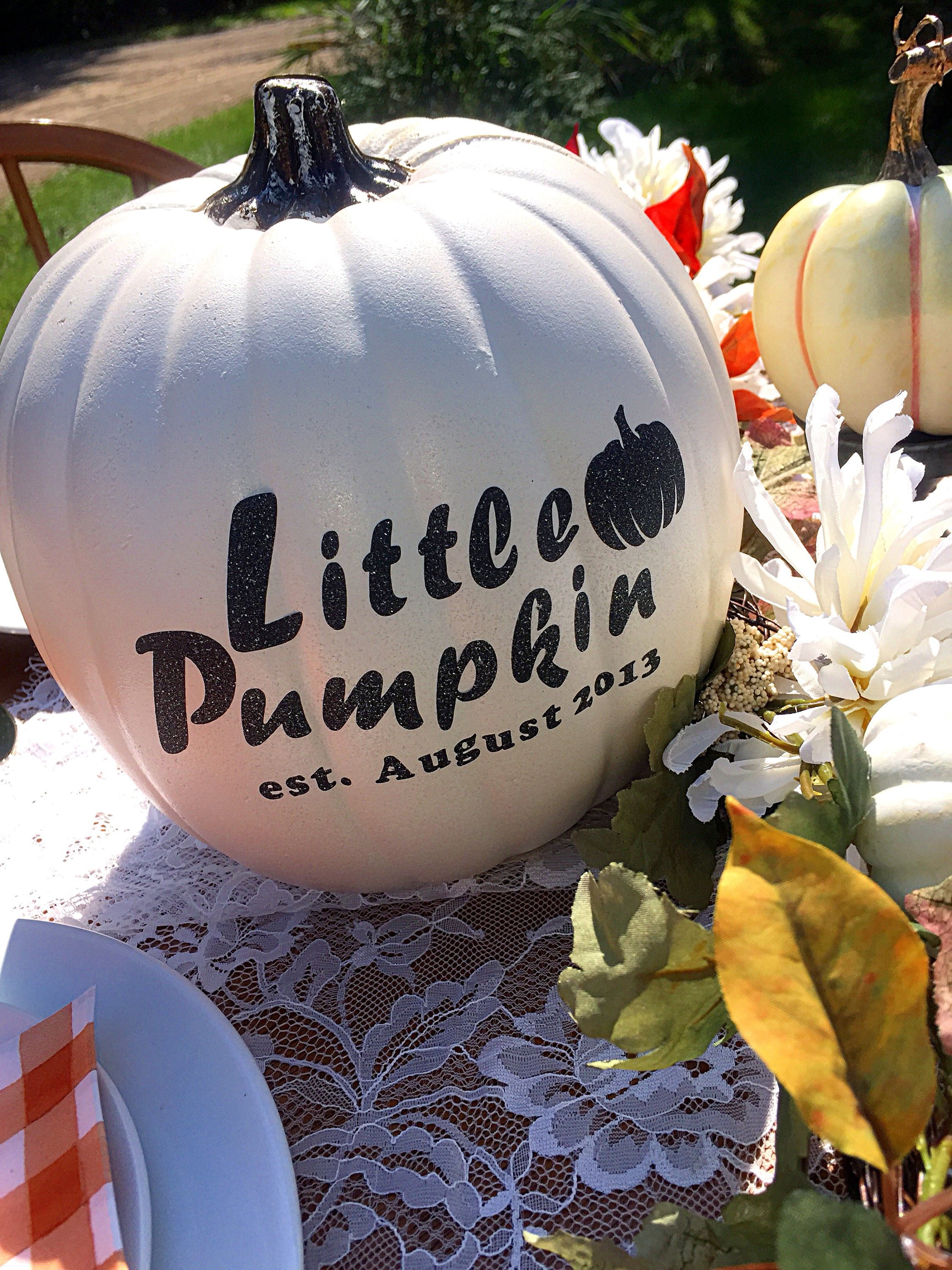 This Fall in Love with Baby Sign adds a rustic touch to your decor. $30 from Etsy.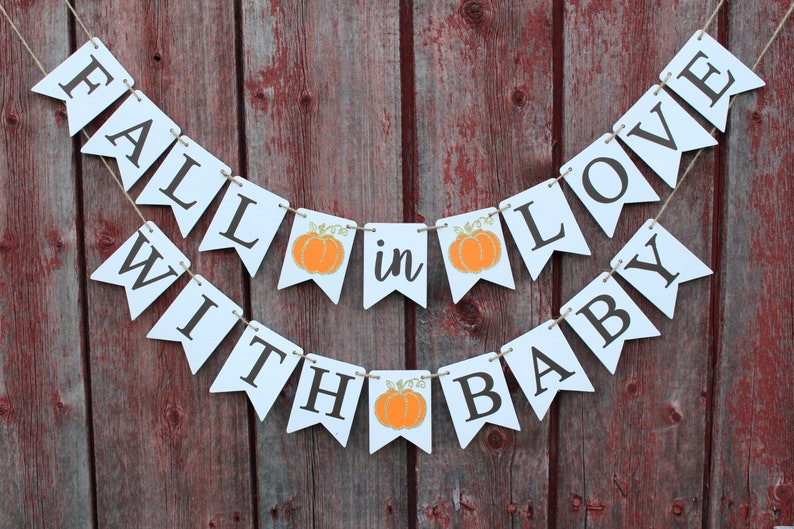 This pretty ribbon banner from Etsy will set the scene with soft rustic tones, $26.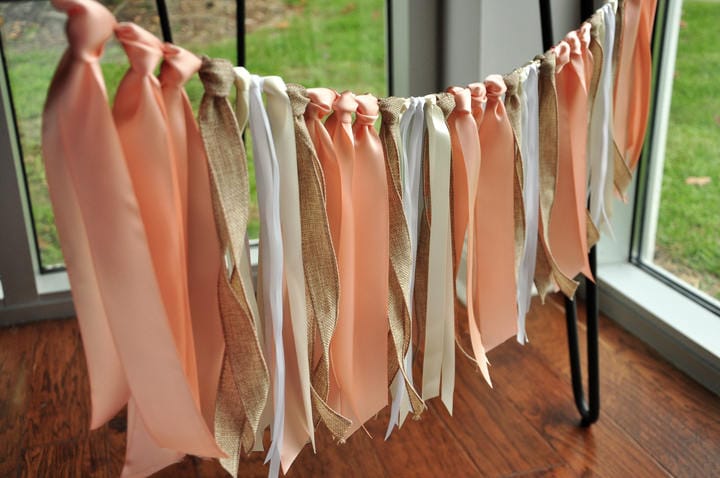 And make sure you have matching stationery and Baby Shower games with our Woodland Baby Shower printable set.
5. What food do you serve at a Fall Baby Shower
Finger food and sweet treats are perfect if you're planning a Baby Shower in the mid-morning or late afternoon. Think a veggie platter, cheese plate, and fruits mixed with some delicious cupcakes and brownies. However, if you're planning a party over lunch, make sure your guests will have a little more to choose from or consider ordering in from your favorite restaurant or getting the party catered.
And to help bring the theme into the food, consider using wooden platters and trays for a rustic vibe.
Cute Fall themed Baby Shower cookies are also a great way to theme the food.
6. Fall Baby Shower Cakes
Of course, a beautiful on-theme cake is often the centerpiece of any Baby Shower. And a Fall Baby Shower theme opens the door to some of the most gorgeous, festive cakes around!
Check out our Best Woodland Baby Shower cakes for our roundup of the prettiest Fall Baby Shower cakes.
Not into cake? No big deal – consider cupcakes, cookies, or even donuts!
Baby Shower Games are a quintessential part of baby showers. Of course, you don't have to do anything that you don't want to, but games add an element of fun and can be a great icebreaker for guests who don't know each other well.
These are our top classic DIY Baby Shower Games which are super easy to set up!
Of course, good games need some prizes. These are our favorite Baby Shower prizes for Guests.
We hope that you have found all you need to know about how to throw a Fall Baby Shower.
I use affiliate links in some blog posts. If you click through and make a purchase, I earn a small commission at no extra cost to yourself. Thank you for your support.